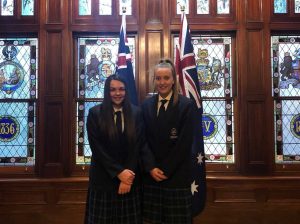 On Tuesday 18th September Keely and I represented Coomandook Area School at a reception held at Government House for Year 12 Student Leaders.
There were over 150 schools represented over two evenings.
We were welcomed by State Governor His Excellency the Honourable Hieu Van Le AC. He spoke about how he grew up in war time in Vietnam before coming to South Australia and how he has worked hard to get where he is and that there are great opportunities for all of us if we are prepared to work hard.
We were able to walk through the ground floor and look at all the amazing architecture and outstanding floor to ceiling paintings and artwork.
It was a privilege to represent the school.
Written by Alana.